Sha La La – Buttercup
1001 South African Songs You Must Hear Before You Go Deaf.
We head back to the start of 1976 with this one and it would be the only new entry on the first Springbok top 20 of that year. Following up Buttercup's success the previous year with 'Baby Love Affair' which went to number 7 on the charts, their second single off the album would not fare as well, only peaking at 15.
While their earlier hit is slightly faster paced and had an introduction not too dissimilar to the Rubettes' 1974 hit 'Sugar Baby Love' with its high pitched vocal introduction, 'Sha La La' slowed things down a little with a spoken lyric between the laid back chorus. Song writer Ken Levine, who penned 'Sha La La' along with brothers Ernie and Robert Schroder, thinks that it was radio DJ John Novick who did the spoken part. Whoever it was, it has a similar feel to Peanut Butter Conspiracy's 'Understanding' or The Flames 'For Your Precious Love', both of which are soulful songs with spoken parts.
However, while it has the familiar spoken bits, the music is more 70s pop than the soul of those earlier hits. It is a relaxed affair with a steady beat that would never set the world alight, but was a solid single of its time.
Where to find it:
Vinyl: Baby Love Affair – Buttercup (1975), EMI Bigadiers, EMCJ(C) 11509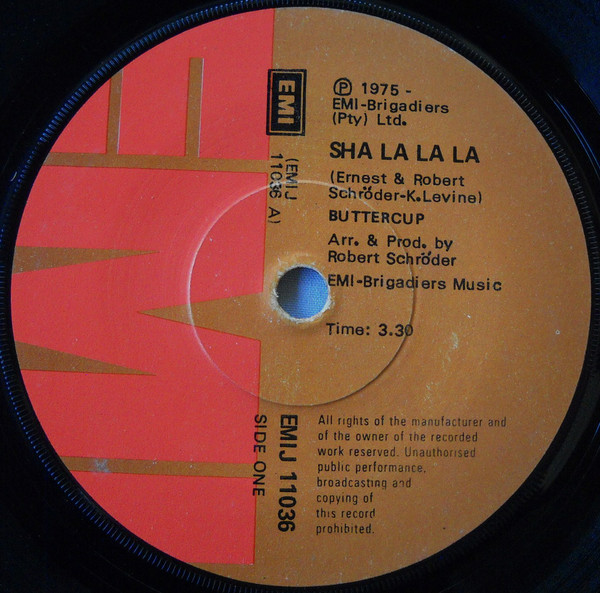 For any questions or comments, please contact Ken Levine.